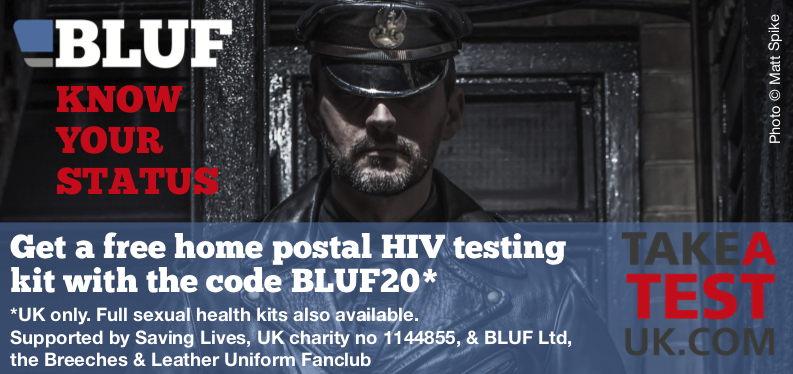 The Breeches and Leather Uniform Fanclub
Welcome to the home of BLUF, the Breeches and Leather Uniform Fan Club. BLUF is a club for men who enjoy wearing breeches and leather uniforms. Founded in 1997, there are now over 4,000 members worldwide, and many of them meet in person at BLUF events.
On the BLUF menu, you can find out more about the club. The Community menu has our calendar of events and blog, while on the Info menu you can find many useful resources, including other clubs, vendors and venues around the world.
Why join BLUF?
BLUF is one of the world's biggest communities for men into leather uniforms, with members in dozens of countries and around 100 events every year. Joining BLUF gives you access to our whole site, where you can meet other guys seriously into leather, create a profile, and become part of our community. We maintain a strict dresscode, which you can read about here.
Joining BLUF is free and open to men who meet our dresscode requirements. The site is run by volunteers, and owned by BLUF Ltd, a not-for-profit company based in the UK.
Montreal: Montréal Pride - Virtual Community Day - Interview with BLUF Montréal.
Fierté Montréal - Journée communautaire virtuelle - Entrevue de BLUF Montréal Montréal Pride - Virtual Community Day - Interview with BLUF Montréal. La journée communautaire, présentée par TD, est de retour cette année avec une édition virtuelle plus accessible que jamais! Vous aurez la chance d'en apprendre davantage sur les organismes communautaires montréalais à travers des vidéos et témoignages. https://fiertemtl.com/project/breeches-leather-uniform-fanclub-bluf-montreal/
---
Community Day, presented by TD, is back this year with a virtual edition more accessible than ever! You will have the chance to learn more about Montreal community organizations through videos and testimonials. https://fiertemtl.com/project/breeches-leather-uniform-fanclub-bluf-montreal/
Amsterdam: In Memoriam: Paul Lodder Blufmember 1373
Paul was a BLUF member (1373) for years and he regularly visited the BLUF Amsterdam Meetings & Socials. He wore his leather uniform with pride and pleasure. Last Friday we were informed by a good friend of him that Paul died unexpectedly and at relatively young age. With regret we have to announce his passing. We wish his family, friends and others strength and courage. Board & Hosts BLUF Amsterdam
Paul Lodder, BLUF member 1373 en lid van BLUF Amsterdam branch, was jarenlang BLUF lid en droeg zijn uniformleer met zichtbaar plezier. Hij bezocht regelmatig de BLUF Meetings & Socials in Amsterdam. Afgelopen vrijdag bereikte ons het bericht van zijn onverwacht overlijden. Het spijt ons zeer dat hij op relatief jonge leeftijd overleden is. We wensen zijn familie en vrienden veel sterkte bij het afscheid en de tijd daarna. Bestuur & Hosts BLUF Amsterdam
BLUF Blog: Community cards - a new service from BLUF
Although most of the things we provide on the BLUF website are for members only, I've long been of the belief that we should also use our resources to provide things that benefit everyone, whether they're a member or not. That's why the BLUF events calendar has been publicly accessible for a number of years now, and we're happy to promote community leather events around the world. (If you want to get your event listed read this.
We also have listings of local clubs and groups, venues, shops, photographers and more, plus our monthly email round-up of forthcoming events, The Leather Forecast, though that's obviously a little quiet in these pandemic times.
Card Services
I'm pleased to announce a new service we can offer to leather or kink clubs (or anyone else who may find it useful). It's called lthr.club Card Services, and is a simple way to create PDF membership cards for a club or other organisation.
Creating plastic cards is expensive and time consuming, especially if you don't charge a membership fee. Virtual Cards in the form of something people can store on their phone or print at home are much simpler to do, but
…
BLUF Resources
BLUF's website isn't just for our members. You'll find plenty of information available to non-members too, including our listings of leather and fetish vendors, leather venues, and local leather clubs, around the world.
The BLUF events calendar features events worldwide, organised by a wide range of clubs and other groups, and as well as BLUF topics, our blog often includes posts of general interest to the leather community.
Members of BLUF also have access to our online magazine, which includes reports from BLUF events, exclusive photo galleries, and even short stories written by other members. The member forum provides places to share tips or ask for help on a range of topics, incuding For Sale and Wanted sections, travel advice and more.
On your BLUF profile, you can even let people know if you have a guest room, or can show them round your city, and our sophisticated search tools can help you find a bed in a city, or even someone who's into the same things as you, with a playroom, who rides a bike and speaks German.
The BLUF Card
We're committed to keeping BLUF membership free, with all members getting all the functions of the site. BLUF is funded by donations and sales of BLUF merchandise. Members who donate to BLUF qualify for the BLUF card, which gives discounts at a range of vendors, including Boxer, Clone Zone, Fetish Freak, Mister B and Regulation.