Weather today
Light breeze, scattered clouds, heavy intensity rain
Day: 23.7°C
Evening: 23.0°C
Night: 18.4°C
Humidity: 0%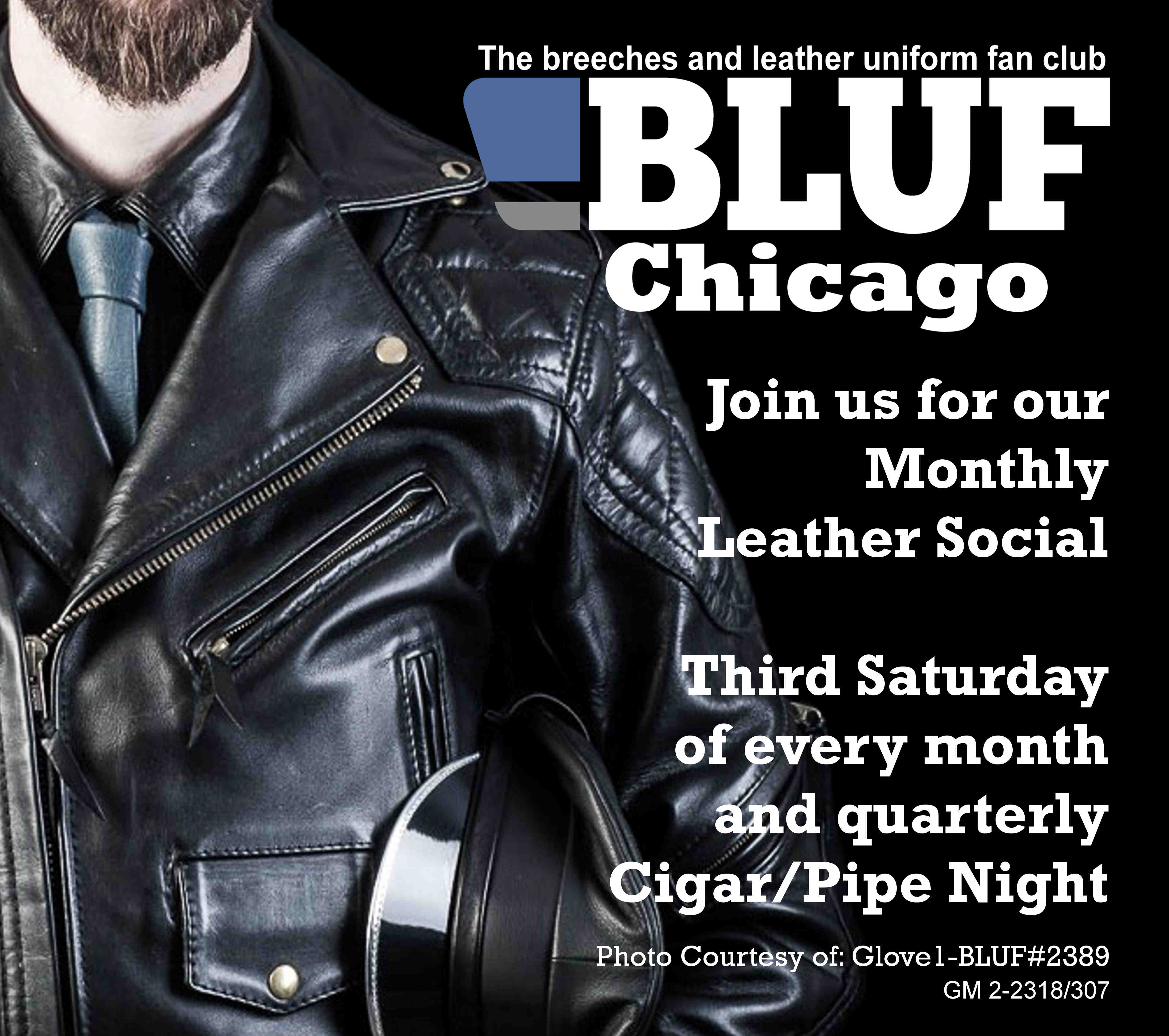 Events
First Annual BLUF Dinner at IML
BLUF Chicago and BLUF Montréal are pleased to announce the First Annual BLUF Dinner at IML. Friday, May 25th at 5 PM. Reservations mandatory before May 20th. Limited seats, first come first serve. BLUF Dress code. **Now sold out** Reservation : dinner@blufchicago.com
Tesori Restaurant (4 blocks from the Congress Hotel), 65 East Adams Street, Chicago.
BLUF Chicago IML Cigar Social
Join your smoke and fetish brothers for great cigars, snacks and drink, as well as special discounts. DRESS CODE: Leather Uniform, Bike Leather and Fabric Uniforms are highly encouraged. but wear what you want to the event, just make sure it is G rated :-). RSVP REQUIRED: please add to your travel plan here then email and confirm the # of guests to: events@blufchicago.com ENTRANCE FEE: $5 (to cover beer, drinks, snacks & set up).
Blue Havana 3240 N. Clark St., Chicago, Illinois 60657
BLUF Social at International Mr. Leather
BLUF Chicago welcomes members of the Breeches and Leather Uniform Fan Club from around the world with a cocktail reception bringing together men into full leather uniforms. This is a BLUF Dress Code Enforced Event, so please wear your finest Leathers and Uniforms. Oxford room- Congress Plaza Hotel
Congress Plaza Hotel 520 S Michigan Ave, Chicago, IL 60605, USA
Silent Auction and Leather Exchange Market
Our market is your chance to pick up some great bargains, make some money and help support BLUF Chicago in the process. The market has a variety of items to choose from; some previously worn, nearly new and never before used items – including leather jackets, pants, chaps, bar vests and boots. Also accessories like wristbands, belts, caps and ties. It's also the event to come to if you have gear you want to sell. We charge a modest commission fee and do all the set up and selling. For details and to register your items for sale: https://www.Facebook.com/BLUFChicago https://blufchicago.com/events-2/market/
Congress Plaza Hotel 520 S Michigan Ave, Chicago, IL 60605, USA
Chicago June Leather Social
Join us for the monthly BLUF dress code social. We're hosting GEAR and hope to see you at @ToucheChicago in your Breeches, Leather Uniforms, or Fabric Uniforms. It all begins at 10pm. A boot black and barber will be on duty. More info: Michael, aka chgogearman (307), elcuero (1864)
Touche, 6412 N. Clark Street, Chicago, USA
Chicago Pride Parade 2018 - Leather & Kink Pride Contingent!
Pride Month will be here before you know it- Mark your calendar and join us in dress code on the Leather Fetish Pride float for the parade on Sunday, June 24! We're aiming for the largest BLUF turn out ever.
Chicago July Leather Social
Join us for the monthly BLUF dress code social. We're hosting GEAR and hope to see you at @ToucheChicago in your Breeches, Leather Uniforms, or Fabric Uniforms. It all begins at 10pm. A boot black and barber will be on duty. More info: Michael, aka chgogearman (307), elcuero (1864)
Touche, 6412 N. Clark Street, Chicago, USA
Chicago August Leather Social
Join us for the monthly BLUF dress code social. We're hosting GEAR and hope to see you at @ToucheChicago in your Breeches, Leather Uniforms, or Fabric Uniforms. It all begins at 10pm. A boot black and barber will be on duty. More info: Michael, aka chgogearman (307), elcuero (1864)
Touche, 6412 N. Clark Street, Chicago, USA
Chicago September Leather Social
Join us for the monthly BLUF dress code social. We're hosting GEAR and hope to see you at @ToucheChicago in your Breeches, Leather Uniforms, or Fabric Uniforms. It all begins at 10pm. A boot black and barber will be on duty. More info: Michael, aka chgogearman (307), elcuero (1864)
Touche, 6412 N. Clark Street, Chicago, USA
Chicago October Leather Social
Join us for the monthly BLUF dress code social. We're hosting GEAR and hope to see you at @ToucheChicago in your Breeches, Leather Uniforms, or Fabric Uniforms. It all begins at 10pm. A boot black and barber will be on duty. More info: Michael, aka chgogearman (307), elcuero (1864)
Touche, 6412 N. Clark Street, Chicago, USA
Chicago November Leather Social
Join us for the monthly BLUF dress code social. We're hosting GEAR and hope to see you at @ToucheChicago in your Breeches, Leather Uniforms, or Fabric Uniforms. It all begins at 10pm. A boot black and barber will be on duty. More info: Michael, aka chgogearman (307), elcuero (1864)
Touche, 6412 N. Clark Street, Chicago, USA
Chicago December Leather Social
Join us for the monthly BLUF dress code social. We're hosting GEAR and hope to see you at @ToucheChicago in your Breeches, Leather Uniforms, or Fabric Uniforms. It all begins at 10pm. A boot black and barber will be on duty. More info: Michael, aka chgogearman (307), elcuero (1864)
Touche, 6412 N. Clark Street, Chicago, USA
Chicago January Leather Social
Join us for the monthly BLUF dress code social. We're hosting GEAR and hope to see you at @ToucheChicago in your Breeches, Leather Uniforms, or Fabric Uniforms. It all begins at 10pm. A boot black and barber will be on duty. More info: Michael, aka chgogearman (307), elcuero (1864)
Touche, 6412 N. Clark Street, Chicago, USA
In this city
Click to search BLUF for bars, clubs, photographers or shops in this city
Other cities
See what BLUF Local is doing in these other cities: