Weather today
Light breeze, overcast clouds, moderate rain
Day: 13.5°C
Evening: 14.0°C
Night: 12.8°C
Humidity: 0%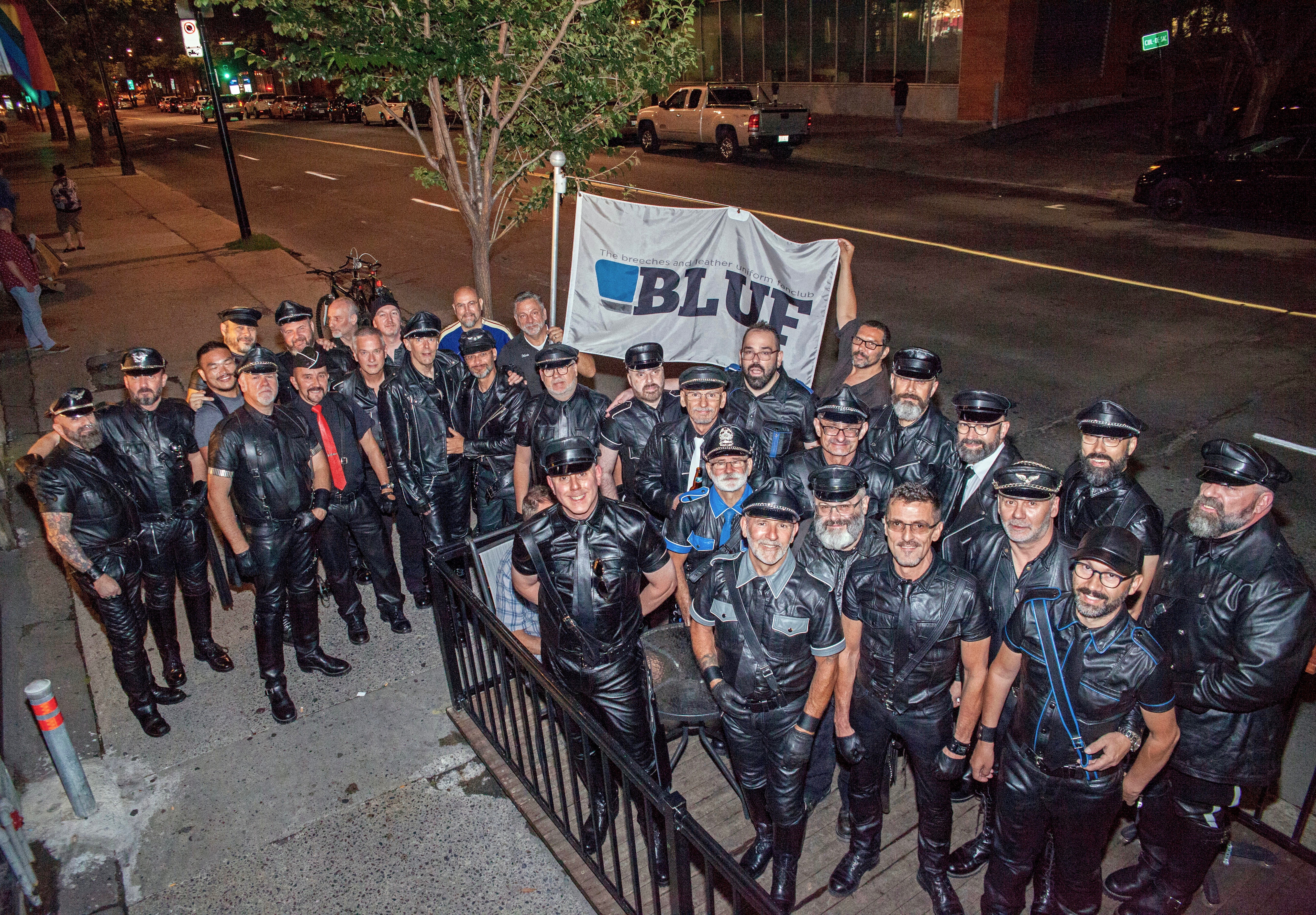 Events
8@10 BLUF Montréal
8@10 BLUF MONTRÉAL Back to popular demand, the Montréal BLUF guys are inviting you to their monthly gathering, now on Friday nights, from 8 to 10 PM, always at Stud BAR, 1812 Ste- Catherine East. Come and join us for great fun. Information : LanglitzMontreal (3301), Master TyranT (1632) 8@10 BLUF MONTRÉAL A la demande générale, les gars de cuir de BLUF Montréal vous invitent à leur rencontre mensuelle, maintenant les vendredis soirs, de 20 à 22 heures, toujours au Bar Le Stud, 1812 Ste-Catherine est. Joignez-vous à nous. Informations : LanglitzMontreal (3301), Master TyranT (1632)
Bar Stud, 1812 Ste-Catherine East, Montréal, Montreal, Canada
8@10 BLUF Montréal
8@10 BLUF MONTRÉAL Back to popular demand, the Montréal BLUF guys are inviting you to their monthly gathering, now on Friday nights, from 8 to 10 PM, always at Stud BAR, 1812 Ste- Catherine East. Come and join us for great fun. Information : LanglitzMontreal (3301), Master TyranT (1632) 8@10 BLUF MONTRÉAL A la demande générale, les gars de cuir de BLUF Montréal vous invitent à leur rencontre mensuelle, maintenant les vendredis soirs, de 20 à 22 heures, toujours au Bar Le Stud, 1812 Ste-Catherine est. Informations : LanglitzMontreal (3301), Master TyranT (1632)
Bar Stud, 1812 Ste-Catherine East, Montréal, Montreal, Canada
Fierté Montréal Gay Pride
Thursday 09 August -> 19 Sunday Aug 18
While the full program will be unveiled on June 19, 2018, the Montreal Pride Festival promises the return of several popular events but also the addition of a multitude of new activities. It should be noted that all the free outdoor shows will be presented this year at the Parc des Faubourgs. This new venue, located at the corner of De Lorimier and Ontario streets, was one of the hits of the 2017 edition. A few minutes from the Papineau metro station, this vast green space comfortably accommodates the larger crowds, to the delight of festival-goers. Since 2007, at the initiative of Montréal's LGBTQ+ communities, the Montréal Pride Festival has promoted their rights and celebrated their cultural wealth and social advances. The largest gathering of the communities of sexual and gender diversity (SGD) in the Francophone world works locally on a daily basis while serving as a beacon of hope for people living in LGBTQ+ hostile regions of the globe. In 2017, the festival generated a total attendance of 2.7 million visitors. In 2018, the festivities will be held from August 9th to 19th.
Different venues
Welcome to BLUF Leather Party at Fierté Montréal Pride
More details soon
Bar Stud, 1812 Ste-Catherine East, Montréal, Montreal, Canada
Leather Weekend Fusion, Montréal
Details to follow.
BLUF Montréal 2nd Anniversary
More details soon
Bar Stud, 1812 Ste-Catherine East, Montréal, Montreal, Canada
BLUF at Fierté Montréal Pride Parade
More details soon
Fête Arc-en-ciel - Québec City Pride
Thursday 30 August -> 02 Sunday Sep 18
The Quebec City Pride Festival is a social and artistic event celebrating LGBT+ Pride. Taking place during Labour's Day weekend, the event attracts more than 35 000 people to downtown Quebec. It the perfect occasion for thousands of people to publically express values of equality and justice and to reclaim their rights while allowing the public to spend time alongside Quebec's more diverse citizens. All will be able to appreciate three nights evening of free shows in Place d'Youville, two days of entertainment on Saint-Jean street in addition to conferences, themed nights and plenty of other activities.
Different venues
8@10 BLUF Montréal
8@10 BLUF MONTRÉAL Back to popular demand, the Montréal BLUF guys are inviting you to their monthly gathering, now on Friday nights, from 8 to 10 PM, always at Stud BAR, 1812 Ste- Catherine East. Come and join us for great fun. Information : LanglitzMontreal (3301), Master TyranT (1632) 8@10 BLUF MONTRÉAL A la demande générale, les gars de cuir de BLUF Montréal vous invitent à leur rencontre mensuelle, maintenant les vendredis soirs, de 20 à 22 heures, toujours au Bar Le Stud, 1812 Ste-Catherine est. Informations : LanglitzMontreal (3301), Master TyranT (1632)
Bar Stud, 1812 Ste-Catherine East, Montréal, Montreal, Canada
Festival Black and Blue - Montréal
Thursday 04 October -> 07 Sunday Oct 18
The BBCM Foundation is very pleased to announce that the Main Event of the 2018 Black & Blue Festival will be held at MTELUS (formerly known as Club Metropolis) on Sunday October 7 during Canadian Thanksgiving Weekend. The infamous electronic dance-music marathon party will feature international DJ's, performers and a multitude of artistic performances. La Fondation BBCM a le grand plaisir d'annoncer que l'événement principal du Festival Black & Blue 2018 (le dimanche 7 octobre pendant le weekend de l'Action de Grâce canadienne) aura lieu au Métropolis (maintenant connu sous le nom de MTELUS) sous la forme d'un marathon de danse de musique électronique avec des DJs vedettes internationales et locales, des spectacles et de l'animation.
8@10 BLUF Montréal
8@10 BLUF MONTRÉAL Back to popular demand, the Montréal BLUF guys are inviting you to their monthly gathering, now on Friday nights, from 8 to 10 PM, always at Stud BAR, 1812 Ste- Catherine East. Come and join us for great fun. Information : LanglitzMontreal (3301), Master TyranT (1632) 8@10 BLUF MONTRÉAL A la demande générale, les gars de cuir de BLUF Montréal vous invitent à leur rencontre mensuelle, maintenant les vendredis soirs, de 20 à 22 heures, toujours au Bar Le Stud, 1812 Ste-Catherine est. Informations : LanglitzMontreal (3301), Master TyranT (1632)
Bar Stud, 1812 Ste-Catherine East, Montréal, Montreal, Canada
8@10 BLUF Montréal
8@10 BLUF MONTRÉAL Back to popular demand, the Montréal BLUF guys are inviting you to their monthly gathering, now on Friday nights, from 8 to 10 PM, always at Stud BAR, 1812 Ste- Catherine East. Come and join us for great fun. Information : LanglitzMontreal (3301), Master TyranT (1632) 8@10 BLUF MONTRÉAL A la demande générale, les gars de cuir de BLUF Montréal vous invitent à leur rencontre mensuelle, maintenant les vendredis soirs, de 20 à 22 heures, toujours au Bar Le Stud, 1812 Ste-Catherine est. Informations : LanglitzMontreal (3301), Master TyranT (1632)
Bar Stud, 1812 Ste-Catherine East, Montréal, Montreal, Canada
8@10 BLUF Montréal
8@10 BLUF MONTRÉAL Back to popular demand, the Montréal BLUF guys are inviting you to their monthly gathering, now on Friday nights, from 8 to 10 PM, always at Stud BAR, 1812 Ste- Catherine East. Come and join us for great fun. Information : LanglitzMontreal (3301), Master TyranT (1632) 8@10 BLUF MONTRÉAL A la demande générale, les gars de cuir de BLUF Montréal vous invitent à leur rencontre mensuelle, maintenant les vendredis soirs, de 20 à 22 heures, toujours au Bar Le Stud, 1812 Ste-Catherine est. Informations : LanglitzMontreal (3301), Master TyranT (1632)
Bar Stud, 1812 Ste-Catherine East, Montréal, Montreal, Canada
In this city
Click to search BLUF for bars, clubs, photographers or shops in this city
Other cities
See what BLUF Local is doing in these other cities: